Married | Katie & Craig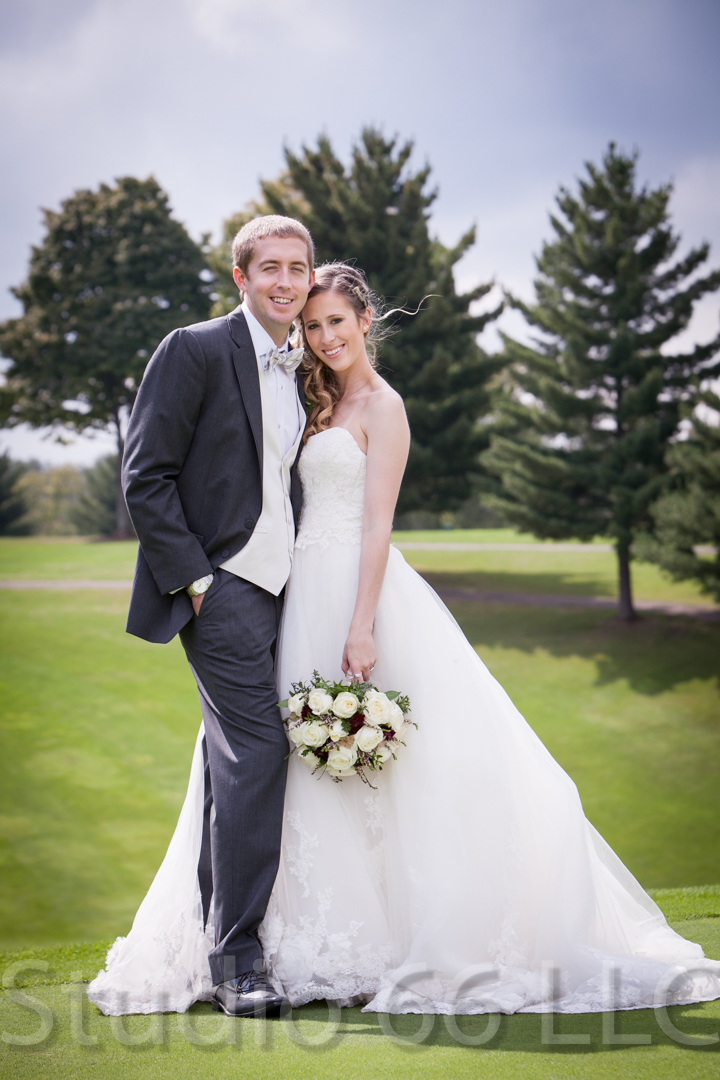 Craig, in his Folchi's Formal Wear grey tux, looked out across the valley from the porch of the Dearborn Country Club as Katie sneaked up behind him. She rested her head on his shoulder for a moment before beckoning him to turn toward her for a look.
There she stood a little shy, yet shimmering in her glorious wedding gown, as Craig took in the scene. His slightly nervous teasing fell silent once he turned to her and realized it was all real now. Then, for a couple minutes, all we could hear was the soft click of the camera shutter and the breeze rustling the trees as we gave them their space for their first look.
So, that was later in the day…
Earlier in the week a rough patch of weather patterns made us worry whether we would have Katie & Craig's wedding outdoors on their gorgeous farmland at all, or would we be stuck inside the reception hall while it rained outside. We were hoping for the farm, of course!
Well, somehow on Saturday the clouds parted and the sun was brighter than we'd seen in a very long time! We noticed this happening while Katie got ready in the girls hotel room at the DoubleTree by Hilton Hotel, Lawrenceburg, IN and we finished up the detail shots.
Once she donned her Chicago-bought wedding dress, we headed over to Dearborn Country Club for that amazing first look and pictures. We caravanned over in several cars, also bearing the flowers created by Dale's Designs and Florals.
Off to the farm; we traveled through Aurora and up into the hills to the ceremony site located on a plateau, with a vantage point over the Ohio River. Katie and her girls finally relaxed once they climbed up on the hay wagon and even broke into song as Craig's great uncle awaited the signal to pull the wagon over to where the guests were set in the clearing.
Craig smiled broadly at Katie as her dad walked her down the aisle toward him. The day was splendid with a gentle warm sun that glimmered off the tall grass.
Once the ceremony and pictures were finished it was time to bound back over to the Dearborn Country Club to be announced at the reception by Everlasting Sounds DJ's Corey & Brenda, and eat cake prepared by Mindy.
Thanks Katie & Craig for allowing us to part of your big day!