Married | Sarah & David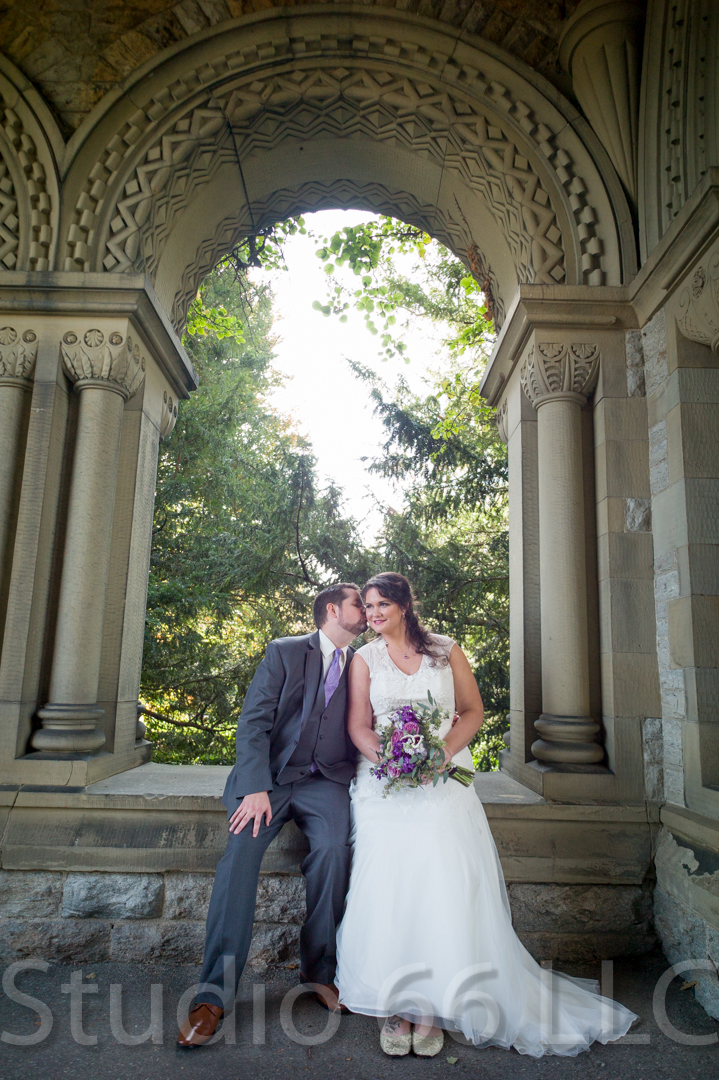 Sarah wanted to hold David's hand before he saw her for the first time in her wedding dress, so we set up their first look at Spring Grove Cemetery's Norman Chapel.
Sarah didn't plan anything without adding some of her personal flair to it, and the centerpieces were some of the best we've seen, that a bride designed. Each centerpiece was themed in a different fairy tale, including Phantom of the Opera, Harry Potter, Peter Pan and Black Beauty. A stack of books, along with different little objects that brought each fairy tale centerpiece alive adorned each table at Muhlhauser Barn. Sarah must have spent days at flea markets and online shopping for just the right details!
Sometimes the first look is to relieve the jitters before the wedding and sometimes it is like this so that we can have enough time before the wedding to get all the fun pictures of the bridal party we want to get. David wore a scarf over his eyes and looked extremely handsome in his Men's Wearhouse tuxedo was propped on a wall holding Sarah's hand, when he removed the scarf and looked around to her. She shone like an angel in her David's Bridal wedding dress as the bright sun filtered through the trees at Norman Chapel.
She had a lot of help from her friends in her wedding, as different people made her flowers, and even her cake for her wedding. The video team Light Parade Films seemed extremely professional and didn't even seem to be in our way, as we directed the group photos. DJ Aaron, from Party Pleasers worked the ceremony and also the reception.