Lauren & Michael's Wedding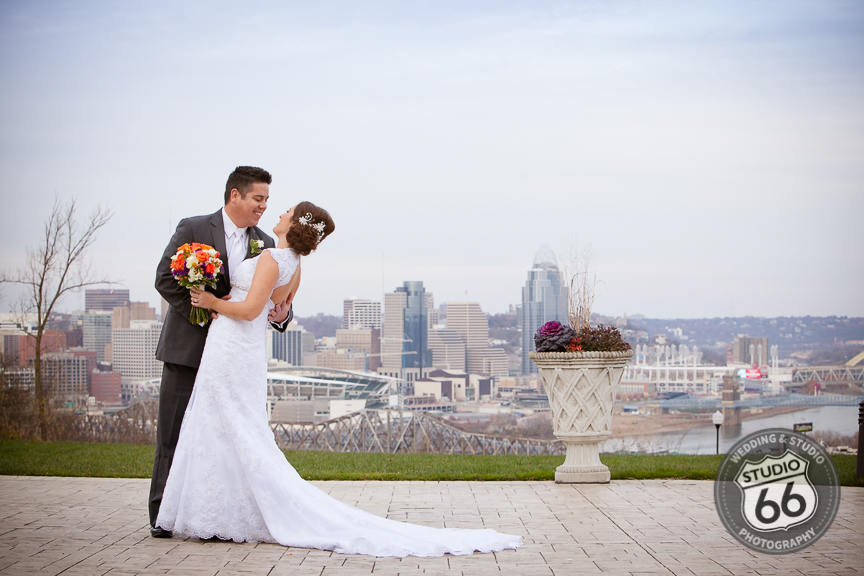 Mid-November wedding! We lucked out; the temperatures would only dip into the mid-thirties with virtually no breeze. And the sun was only partially blocked by a thin layer of clouds. The second Polar Vortex of the year was due the next day…but we were good for today!
Besides, it was warm in the house where Lauren was getting the finishing touches applied, as we walked in to start our day with her.
She was all smiles, and delighted to have all her girls around as she prepared to get her Bridal and Formal wedding dress on.
As she walked down the steps to see dad for the first time, I had to compose a picture with a family portrait below her on the wall. Her dad embraced her and congratulated her, as she showed off the glistening dress.
The girls piled into the Hummer Limo, provided by Cincinnati DJ Services, to head to St. Bernard Church for the first look with Michael and the groomsmen. The light is warm and gorgeous as the maid of honor unties the purple blindfold from Michael's eyes, as the couple stands at the front doors of the church.
After a few more photos, we all pile into the limo to head down to Fountain Square, and Drees Pavillion, for bridal party pictures, as there won't be any time after the ceremony. On the way, I'm sitting in the back of the limo, next to Michael, and looking out the front window, when I see a 8-point-buck jump across the road in front of the pickup truck in front of us!! It's a wonder that he didn't hit it and it was such a close call for us too. We didn't need anything like that to happen on our tight schedule!
The rest of the night was grand! There were absolutely no more issues and the couple had a great time with their guests.