Wendy & Charlie's Wedding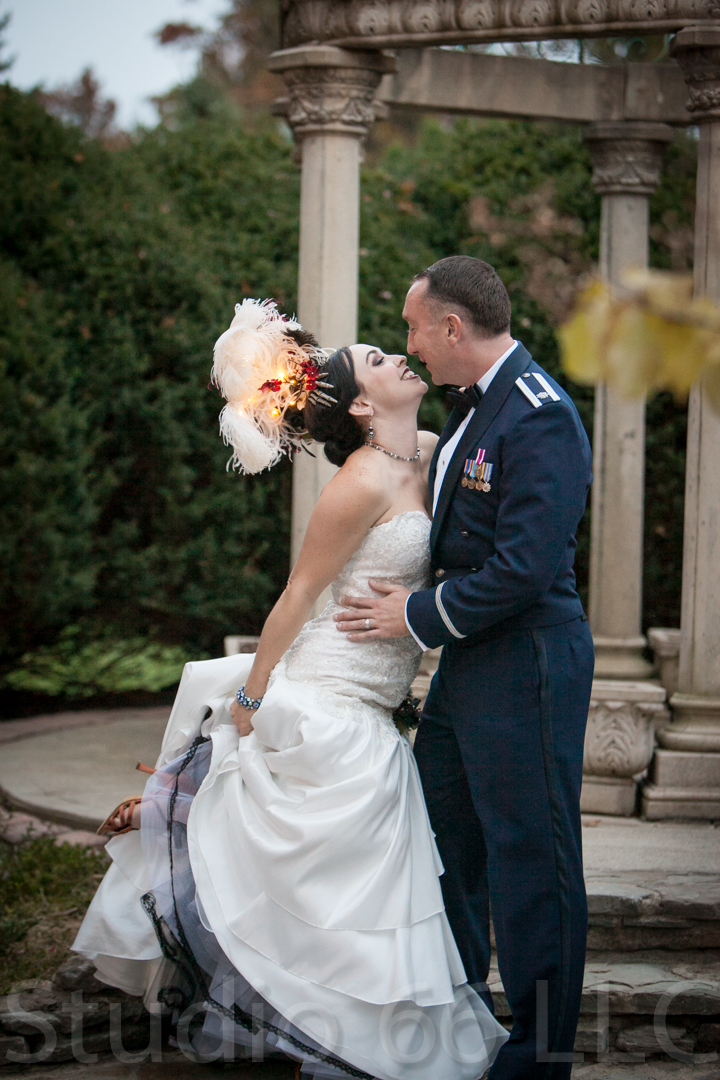 Lord & Lady Vegas was to get married today, and there was excitement in the air around the Manor House! The ceremony, held in the atrium, was to be setup like a theatre-in-the-round. And to top it off it was Halloween night! The set, decorations and costumes were all in favor of a wonderful Halloween party wedding reception ball.
You see; Lady Vegas is a professional actress, whose real name is Wendy. And she is marrying Lord Vegas, who in real life is named Charlie, a for-real Air Force F-16 pilot based out of Las Vegas!
Wendy & Charlie did not want to see each other before their "I do's" but the one photo they both wanted badly was Charlie's face as he saw her coming down the aisle. She really wanted to see his reaction to her custom made bridal gown from Couture De Bride by Tova Marc, and veil made by The Sisters Brimm.
The ceremony was a blend of two faiths with the two ministers and acceptance of each other, and those around. It was hard to focus on the bride and groom when there were so many amazing costumes around the ceremony!
And for the reception, the guests were not your normal fare, they had donned elaborate costumes, their best performance personas and participation was 100% in the wonderful costume ball. If they weren't swing dancing in small groups they were spinning around the room in traditional ballroom dances!
Then everyone had cake, from Maribelle Cakery, while listening to the masterful MC tunes of DJ Big Daddy Walker and weaving in and out of the tables full of decorations by Impressive Occasions.
And Wendy and Charlie were married happily ever after!